'Roadkill' is the latest politcal show to get run over by reality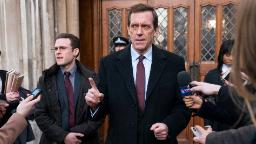 A running commentary about 2020 has involved the grim assertion that the plot twists — from a pandemic to murder hornets — would feel too far-fetched coming all at once if they were scripted. Former "Veep" showrunner David Mandel
has joked
that when it comes to political satire, Trump administration officials "seem to be better at the job than I am."
That appraisal might be a bit of hyperbole. Yet the outlandishness of the past several years has clearly upped the ante on politics as theater, prompting the inevitable comparisons to season cliffhangers and improbable surprises in serialized dramas. As Los Angeles Times critic Mary McNamara
noted
in a column about the "Borat" sequel, the president's behavior has "left comedians and critics wondering if political satire could survive."
In "Roadkill," a title that has its own literal interpretation, Hugh Laurie stars as Peter Laurence, a British politician introduced in the wake of a trial in which he has taken on a newspaper for leveling corruption charges against him. Laurence won the libel case, but as even his lawyer notes, that doesn't necessarily mean the reporting was inaccurate.
While working to advance his political fortunes, Laurence encounters an unexpected development on another front, learning that he fathered a child about whom he never knew during his wild single years. Plus, there's the little matter of currently juggling a wife and girlfriend, as well as his strained-or-nonexistent relationship with his grown daughters.
Written by playwright/screenwriter David Hare ("The Hours"), "Roadkill" has an understated quality to it, with Laurie at his best as the oily politician — the kind of guy who fakes sincerity so well he can seemingly get away with almost anything. When he meets with the prime minister (Helen McCrory) about a possible opportunity within her government, she says stiffly, "I am asking you to shake all the skeletons out of your closet right now," a request that comes at an especially awkward time.
Even with its salacious elements, the bottom line is "Roadkill" simply feels tame relative to the Trump/Brexit era of US and U.K. politics — a point echoed across the Atlantic by Ed Cumming
in a review
for the Independent.
While praising the performances, Cumming wrote, "For all its post-Brexit aspirations, though, this feels like a drama from an earlier time, with a traditional left-wing heart. However outlandish the fictional scheming on display, the real world is crazier."
It's possible that both countries will turn a page and regain a greater sense of sobriety, where fiction doesn't need to work so hard to rival reality, much less outdo it. Still, that hardly seems like a reasonable near-term hope, no matter how the presidential election turns out.
What that means for dramatists exploring the world of politics remains to be seen. As it stands in the current climate, though, something like "Roadkill" doesn't press its foot on the pedal hard enough to leave much of a dent.
"Roadkill" premieres Nov. 1 at 9 p.m. on PBS' "Masterpiece."